Shotcrete, Gunite, Mixing and Pumping Equipment Training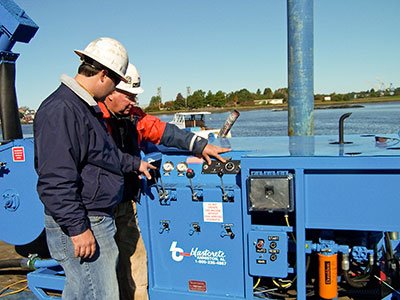 Blastcrete Equipment, LLC: Committed to your Success
Blastcrete Equipment, LLC offers free customer training on the proper operation, maintenance and mix design at our factory in Anniston, Alabama, USA. We teach our customers proper machinery setup, startup, safe operation, clean up and maintenance on our complete product line. We also offer wet and dry shotcrete basics for any application for users who may not be certified.
Blastcrete is a member of the American Shotcrete Association. Certified nozzleman training for shotcrete is available through ASA and the American Concrete Institute. Contact the ASA at www.shotcrete.org, ACI at www.aci.org, or call us at 1-800-235-4867, and we will assist you in contacting the ASA.
Blastcrete has assisted leading manufacturers of all types of cementicious and refractory materials in testing and developing high-quality construction and repair materials. We offer this service free to our customers. We also offer free assistance to customers in mix design, as we test new procedures, which can result in improving the quality of work and profitability for customers.